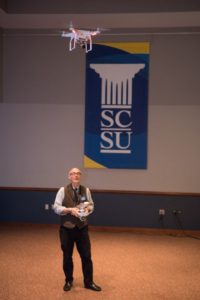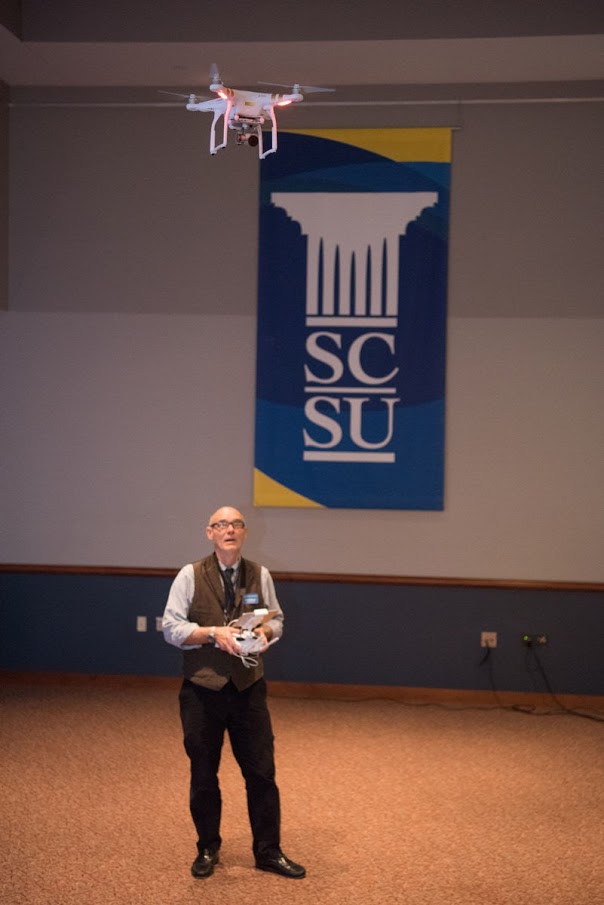 By Jordan Otero
Journalists and news organizations shouldn't be afraid to dabble in using drones for reporting and storytelling, a panel of industry professionals said Saturday.
The drone discussion, held during a session at the Making CONNections Regional Journalism Conference at Southern Connecticut State University, centered around drone regulations and ethics, as well as ways in which news organizations and publications can use drones to enhance their storytelling abilities.
Panelists were John Woike, a staff photographer at the Hartford Courant; Peter Sachs of the Drone Law Journal; Petr Hejl, owner and operating of NotADrone.com; and Jon Ollwerther, CMO for Aerobo, a NYC Drone startup which designs, builds, and operates drones for clients in news, television, sports, advertising, cinema and inspection.
The two-day conference was hosted Friday and Saturday by the Southern Connecticut State University (SCSU) Journalism Department and SCSU SPJ student chapter, with support from the Connecticut Pro Chapter of SPJ.
Sachs noted that despite misconceptions that drones are heavily regulated, there are only three restrictions stipulated by the Federal Aviation Administration: operators cannot fly in a restricted area, cannot operate carelessly or recklessly, and must register their drone.
Sachs stressed that it is not mandatory for anyone – reporter or otherwise – to obtain a pilot's license before flying a drone and that there are currently no laws to stop journalists from using a drone for newsgathering purposes.
The panelists said it is currently less restrictive for an average citizen to get drone footage than news outlets because it is for non-commercial use.
"There's been a big shift in public perception" in recent years surrounding drone usage, Hejl said.
Regardless of that shift, drones provide the potential to enhance storytelling by giving access and perspective.
"For a journalist, I think this is going to be the future," Woike said. "I look forward to the day when I can go on assignment and add this to my storytelling."
Ollwerther said: "Anyone saying they don't want to explore this right now is putting themselves at a disadvantage."