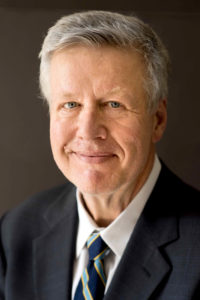 Dr. James Simon, who worked for a decade as a political reporter with the Associated Press and then created journalism programs at two universities, has joined the Journalism Department at SCSU in 2018-19 as its first "Scholar In Residence."
"Dr. Simon is the rare journalism professor who can balance real-world experience with an outstanding record as an academic researcher," said Prof. Cindy Simoneau, chairperson of the Journalism Department. "We are delighted to have him join our department, where he will teach and advise students, work with junior faculty members on their research, and help us market our successful, hands-on program."
Dr. Simon founded the college newspaper at the Livingston College campus of Rutgers University, then spent a decade covering politics for AP at the Boston, Providence and Trenton statehouses, where he wrote 4,000 news stories and interviewed three U.S. presidents. He returned to school to receive his master's degree at the Cronkite School of Journalism at Arizona State University, where he worked closely with CBS broadcasting legend Walter Cronkite for three years, and then received a Ph.D. degree at ASU in public administration.
Dr. Simon revived a moribund journalism program at the University of the Pacific; worked for 18 years at Fairfield University, where he was the founding director of the journalism program; and then went on to become dean of Arts and Sciences at both Fairfield and the New York Institute of Technology. He is the co-author of a popular book on environmental journalism, author of two dozen peer-reviewed journal articles, and has made 100 presentations at academic conferences.
He also was named national college journalism "Teacher of The Year" by a division of the Association for Education in Journalism and Mass Communication.
"I have a simple goal: get students as excited about journalism as I have always been," said Dr. Simon, who grew in Stratford and said he has interacted with the Southern campus for several decades
"Southern has one of the best journalism programs in state, and I am eager to help spread the word and attract even more students to SCSU to benefit from the program."