Prof. Frank Harris III, of the SCSU Journalism Department, was honored at the 100 Men of Color Gala and Award ceremony at Hartford's Bushnell Performing Arts Center on Oct. 26, 2018, where he also was chosen from among the 100 to deliver the Valedictorian speech.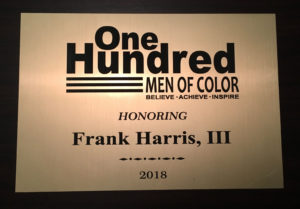 The 100 Men of Color recognizes men of color in business, education, entrepreneurship, government, entertainment, sports and public service and the impact they have on the lives of people throughout their communities.
It was the third speaking appearance Harris made in the last two months.
Harris delivered the keynote address among 16 community leaders to speak at the Connecticut Council for Interreligious Understanding's Love Thy Neighbor Dinner on Sept. 17, 2018.
CCIU's mission is to promote public awareness, understanding about, and respect for, Connecticut's religious pluralism through an array of programs and initiatives.
CCIU's principal focus is on educating youth and adults about the world's religions, the values they share in common, and their differences, and how they have contributed to respective world views and identities.
Harris also served as a panelist at the New Haven Free Public Library's "Who's Teaching Today's Journalists discussion of "Fake News: Is it Real?" on Oct. 4, 2018.