The SCSU SPJ chapter won the Region 1 Outstanding Campus Chapter Award for 2015-16.
The award was presented to the chapter Sept. 20 at the national SPJ conference in New Orleans by Region 1 Director Jane Primerano.
The Society of Professional Journalists Region 1 includes the states of : Connecticut,  Maine, Massachusetts, New Jersey,  New York,  Pennsylvania and Rhode Island.
SCSU SPJ President for 2015-16 was Journalism major Monica Zielinski, who is now working for a publication in Poland. Read about her new gig here.
The award was "in recognition of outstanding programs and activities that enhance professionalism, thereby contributing service to the Society and to the profession."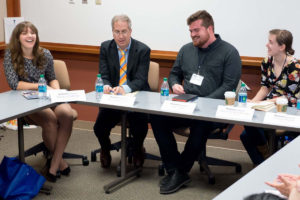 Cindy Simoneau,  Journalism Department chair, said she was especially proud of the student chapter last year, which offered a variety of campus programming and assisted with panel presentations and assisting the department with hosting the regional journalism conference on campus last April for professional and student journalists.
Two of the panels organized by SCSU Journalism students included one on covering college athletes in the age of sports information officers, and one on free speech issues on college campuses.