When Ebong Udoma was a new reporter for the Connecticut Post, he was arrested on the job, covering the tragic L'Ambiance Plaza collapse in Bridgeport.
More than 20 construction workers will killed with a building under construction collapsed on April 23, 1987, and tensions were high as reporters tried to find out more information in the first days after the incident. Udoma, now the senior political reporter for NPR affiliate WSHU radio, was one of the journalists who taken in by police for trying to report on the aftermath of the collapse.
"It was the first national story I ever worked on," Udoma told a crowd of about 300 high school students during the 35th annual High School Journalism Day at Southern Connecticut State University on Friday, Nov. 2. "It was my first and only arrest."
While the charges were later dropped, Udoma recalled his father's reaction: "If you're going to get arrested in America," Udoma recalled his father saying, "you might as well come home to Nigeria."
In the 30 years since the collapse, Udoma has covered Connecticut politics, including the resignation of former Gov. John Rowland, as well as President Donald J. Trump's campaign. But in 2016, he did return to Nigeria to help launch Gotel Africa, an international media network. There, he covered everything from national politics to Boko Haram. He spoke of the emotion that came when covering suicide bombers.
"It's heartbreaking," Udoma said. "You just can't imagine people would do that to each other."
Udoma told students they can learn how to write and report, but they need to start from a place of curiosity if they want to be reporters.
"It takes a certain kind of person to be a journalist," he said.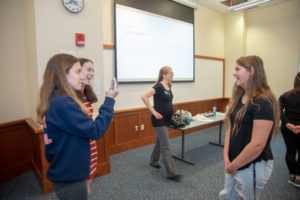 Before the keynote address, students attended two sessions of journalism workshops. The topics ranged from First Amendment rights to video storytelling skills. The workshops were led by Journalism Faculty from Southern, including adjunct instructors. Current and past members of Connecticut SPJ's board of directors were also present, including Michael Savino, the immediate past president who presented on Freedom of Information issues in Connecticut.
High School Journalism Day is held each year to expose students to the journalism industry and working journalists. It is part of the mission of the department to help contribute to the growth and preparation of future journalists in the state.
Featured image: Students from Joseph A. Foran High School in Milford pose with Ebong Udoma, senior political reporter for WSHU radio, after his keynote address at the 35th annual High School Journalism Day, Nov. 2, 2018. (Photo: Jason Edwards)
A slide show from the event can be viewed below.