It's not exactly the "forgotten war," but popular interest in World War I has been overshadowed by its successor, World War II.
Southern Connecticut State University highlighted Connecticut's role in the war during a university forum, "World War I: From New Haven to the World" on Nov. 9.  More than 200 people, including area high school students and a senior center, attended the event at the Lyman Center for the Performing Arts at Southern.
The forum was planned, in part, by the Journalism Department at Southern, which has teamed up with the Connecticut State Library to tell stories of World War I from the state. The students in the Journalism Capstone course are reporting on war monuments, Connecticut connections, and residents who served. The reporting commemorates the 100th anniversary of the United States involvement in World War I.
Click here to view past articles published under the project.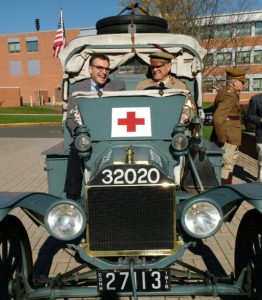 Keynote speakers included Michael Neiberg, a historian who considers what would have happened if the United States never entered the war, and Laura Macaluso, a Southern graduate who wrote the book "New Haven in World War I."
Also on the panel were Christine Pittsley, the project manager for the state's Remembering World War I project, and George King III, the director of Ambulance 255 Project, which has restored a 1916 Model T Ford as a replica of a World War I ambulance.