'I really just want … to see first woman president'
by Aaron Berkowitz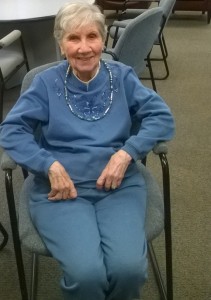 WOODBRIDGE, Conn— Even waiting in line in the blistering cold airthat seeped through Hamden town hall's stairways to bring flour home to her mother didn't change Antoinette "Toni" Arnone's opinion that her childhood wasn't as hard as some children have it today.
 "We never went hungry. I remember waiting in line for flour for hours to bring home for my mom to use," said Arnone. "Times were tough but that was part of my responsibility as a child. I remember one time somebody passed out in line and they took her directly to the front. Then I thought to myself, 'Why hadn't I thought of that?' I was a wise guy."
     Arnone, was born South of Naples, Italy 93 years ago and said she believes the younger generations today live more complicated lives than the people of her generation.
"It was much simpler times when I was growing up," said Arnone. "The circumstances were tough but we always found a way."
Her father did odd jobs for money, such as cut hair and repair shoes, really anything to keep food on the table, she said.
She spent a lot of her childhood days helping her mother bake bread and make pasta, but has fond memories of playing with toys that her father would make for her and her siblings.
With not much money to spare, her father found creative ways to keep his children entertained, she said.
"I remember one summer my father made a scooter for all of us. He used 4 wheels off of a skate that he took apart and a box," said Arnone nostalgically. "My four brothers always got to ride it first. It really is funny to me the things that I remember. I guess it's just the little things."
Looking back on her life, Arnone referred to herself as one of the "lucky ones."          Her family, including her brothers and one sister, moved from Italy and came into the states through Ellis Island. Her family had to be sponsored by her father's sister in order to have permanent residence in the country, she said.
Her family then moved to Hamden, Conn. , when she was only 11 months old. Growing up under the extreme conditions of the Great Depression was hard, but she always had someone making sure she was okay throughout her life. Her family was always very loving towards one another and she said she clearly remembers sleeping three kids to a bed.
"I remember me and one of my younger sisters would always sleep with our youngest brother tucked in between us. Growing up was tough, but I always knew what I had to do and my family all loved each other," said Arnone. "I can't believe that I went to kindergarten not knowing a word of English and wearing boys' shoes for a few years without letting anyone know. I was so embarrassed, but I wore what I had and dealt with it."
Toni was a part of the first class to attend Hamden High School, which opened in 1935. She dropped out of high school at the age of 16 to begin working at a Laundromat to help support her family.
Four years after leaving high school and beginning to work she married her first of three husbands, Augustine Dellavecchio, whom she had known since she moved to the states. They were married for 10 months before he was drafted into the Army because they were looking for men without children. Arnone said this was days after Roosevelt announced the bombing of Pearl Harbor.
"I remember it like it was yesterday," said Arnone.
Dellavecchio was stationed in Mississippi for 10 months before returning home to his wife.
Months after he had returned from training, Arnone said she noticed that something about her husband had changed; he was no longer the man she fell in love with.
"Something was different about him. He was always accusing me of doing things I wasn't and threatening me," said Arnone. "I went months without telling anyone about what was going on until he finally threatened me with a bottle that he broke.
Dellavecchio went into a rage while accusing Arnone once again of having an affair with a plumber that was working on their home in North Haven.
Arnone said she told her husband "Don't you think I could do better than him?" before fleeing their home to Dellavecchio's brother's home who lived down the street.
They divorced after he was incarcerated and charged with the abuse of Arnone.
She said she has an understanding of why some females do not leave abusive relationships, even after they realize it's no longer what they want.
 "I was terrified that he was going to do it again and I believe that's what goes through most women's mind," said Arnone.
Over the course of her life she said she has seen the world change into something almost unrecognizable, in bad and in good ways.
"Would you believe we never got sick?" said Arnone. "The only time anybody we knew got sick growing up was when the 'whooping cough' came around and regular colds. Luckily no one in my family got it."
She shared her dislike of the younger generation's straying away from the face-to-face interaction.
"I love meeting new people and talking to them once I feel comfortable, but it seems like less and less people are doing that as time goes on," said Arnone. "Computers ruined conversations. I really miss that. I see that my daughter and son-in-law are sort of like slaves to the computer. When I see my grandsons they are always busy or on their phones, but I also get that the times have changed and that it's normal."
She said she understands a lot of the good that has come with the advancements in technology but misses the personal element of interacting with people.
Comparing the 1950s to now, Arnone said she's also very proud of how far society has come in terms of being more accepting of people and their abilities vs. judging them by their sex or ethnicity.
"I really just want to live long enough to see the first woman president," said Arnone. "Women have always been stronger than men."
Arnone said she has always been a strong believer in that mindset and even owned her own beauty shop in North Haven for 20 years.
She quickly explained that this wasn't always the case. She said when she and her second husband, Joseph Ellis, moved to Florida and adopted their daughter, Susanne Popel, at 22 months, she faced a terrible reality when looking for work.
"Joseph told me I wouldn't be able to get a job because my maiden name was Poscino and that showed that I was clearly Italian. I didn't believe him until I went to look for work at another laundromat and the owner told me exactly that," said Arnone. "It was terrible. I don't think a lot of people understand what it is like to be discriminated against."
Business was running successfully when they returned to Connecticut, but she decided to leave her beauty shop behind to spend more time with her daughter Susanne.
"She used to always used to play 'the Unicorn song' on the record player in the shop when I would bring her. The customers hated it and used to ask 'Does she have to play it so much?'" said Arnone. "One day she looked up at me when I came home from work and she said 'mommy I never see you, you're always working.' I left the shop soon after to spend as much time as I could with my baby girl. I live with her now. She was the best decision that we had ever made."
Ellis passed away five years after 15 years of marriage from cancer and Arnone said she was devastated.
"It was heart-breaking," said Arnone. "He was the best man I met in my life. A great father who just loved his family."
The tragic loss of her husband led to her third and final marriage to Anthony Arnone, who had also recently become widowed.
"He had become a widow a year after me," said Arnone. "He was lost without her, so he would come see me on the weekends and it developed into a nice romance. We were married for 35 years."
Arnone said she loved her husbands differently but she would have never remarried if her first husband had been well.
To this day Toni remains "sharp as a tack" by constantly reading, spending time with her two grandsons, and trying to understand some of the new technology that comes out.
"The other night I caught myself lying in bed thinking and I realized that I have lived a wonderful life," said Arnone. I have no regrets."