By Victoria Bresnahan, Kaitlyn Regan and Jailene Cuevas SCSU Journalism students
Victoria Bresnahan, Kaitlyn Regan and Jailene Cuevas, journalism students at Southern Connecticut State University, reported this story in 2018 as part of Journalism Capstone coursework on World War I.
The day after Germany signed the armistice, 1st Lt. Medical Corps George Boteler sailed to France to help troops injured in World War I.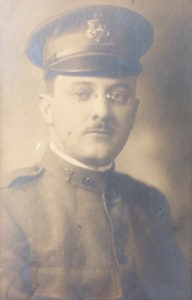 Originally from Missouri, Boteler oversaw hospital trains that traveled across war-torn areas helping injured soldiers and civilians. He served on Hospital Train #43 and #57, as well as providing medical help at base camps.
The hospital trains were intended to be used as "mobile hospitals," and not necessarily as a means of transportation, according to records from Medical Department of the U.S. Army in the World War.
Alison Boteler, a Bridgeport resident, and George's granddaughter, said he was sent to Europe to treat injured soldiers before they returned home.
"They weren't, in other words, [the injured] weren't up to being transported to the United States because they weren't physically able to leave France," said Alison Boteler.
His enlistment record into the Missouri National Guard states he was inducted into the group on March, 30 1917. George Boteler belonged to the Company M Sanitary Detachment in Louisiana, according to a 1917 roster of the National Guard of Missouri, before serving overseas.
He served as a general surgeon and physician until July 22, 1919; almost one year after the war ended, according to his World War I enlistment record. He also worked at camps around France, including Base Camp #71 in Dordogne, and #11 in Loire-Atlantique where he performed as a surgeon.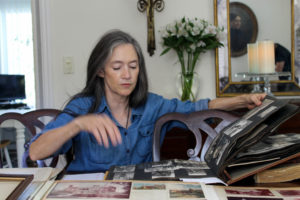 "I think at both he was in charge of hospital trains in treating the casualties and injuries of American troops and also local French people who had been injured in the war," said Alison Boteler.
Each American hospital train had about 360 beds for patients and could include an infectious disease car, nine "ordinary ward" cars and a pharmacy car, according to the U.S. Army Medical Department transportation records.
George Boteler discussed little of his time on the trains and in the war, according to his granddaughter. However, she said, her grandmother Lucile Boteler, who was a nurse during World War I, believed his time in the war resulted in a changed personality when he returned home.
Alison said she remembers him as being an unhappy man and not fun to be around. There was a possibility, she said, he suffered from Post-Traumatic Stress Disorder or some other type of mental illness after the war due to the injuries he witnessed.
"He was always very solemn and somber," said Alison Boteler. "And my brother and I feel that possibly he suffered from some sort of post-traumatic stress or something from being a physician and a surgeon, you know, during World War I and having to treat so many catastrophic injuries and you know, gas burns and stuff like that."
However, she said her grandfather once discussed the amputation procedures he conducted. It is possible, she said, he felt he was "sickening" everyone by talking about it. She said she thinks he suffered from a lot of loss since so many patients died on him from their injuries, but also influenza.
"This is the one thing my grandparents did talk about because it was flu season around the holidays, about the influenza during World War I, and how it almost killed both of them," she said. "So, he saw a lot of deaths from that especially in these, these camps where they have such close contact with the troops that are training or trying to treat medically."
Alison Boteler said it was a Boteler tradition to always have a physician in the family—George Boteler was that family member for his generation.
"I don't think, according to my father or my grandmother, that he ever really wanted to be," she said. "He actually had a passion for the clarinet. Which I never heard him play the clarinet or saw a clarinet, but later on he learned the clarinet as a child, in the 1920's he regretted that he couldn't run off and become a jazz musician."
George Boteler was stationed at Base Camp #71, or Camp Beauregard in Louisiana before he
traveled to France. Alison Boteler said he worked as both a physician and a surgeon while he was at Camp Beauregard. He treated trainees and possibly soldiers.
Shortly after returning to the U.S. from the war, George Boteler married Lucile Connett, an actress and nurse who also served in World War I. He continued to work as a physician in St. Joseph, Mo. and later in South Dakota before passing away from pneumonia in 1971.