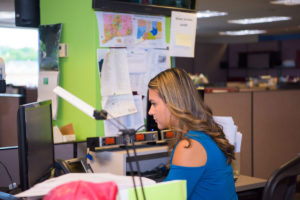 Sandra Gomez-Aceves, a recent SCSU Journalism graduate, was one of 12 journalists accepted to the 2017 ProPublica Data Institute in New York City.
ProPublica pays all expenses, and gives a stipend to those who attend. More than 450 people applied for the institute this year.
ProPublica has won four Pulitzer Prizes since the website launched in 2008, according to its awards page. The publication has also won prestigious national awards from the Society of Professional Journalists Sigma Delta Chi awards, Society for News Design, the Online News Association and the Investigative Reporters and Editors. ProPublica has also won international journalism awards for its data reporting.
Sandra spent June 7 through June 21 in New York City learning data journalism, design and programming from the News Applications team at ProPublica. More details on the program can be found here.
She is shown in the tweet below, working on day two of the program with other journalists.
See more about Sandra here.
Evaluating Data: "Why Paranoia is a Necessary Trait" – @derekwillis #DataInstitute pic.twitter.com/FUwqgewQzv

— Tasnim Shamma (@TasnimS) June 8, 2017