By Michael Apotria and Brokk Tollefson, SCSU Journalism students
Michael Apotria and Brokk Tollefson, journalism students at Southern Connecticut State University, reported this story in 2017 as part of Journalism Capstone coursework on World War I.
U.S. troops spied on the enemy during World War I using balloons as aerial lookouts — an effort Connecticut contributed to through manufacturing and manpower.
British soldiers called the men who went up in the spy balloons "balloonatics," according to Christine Pittsley, the project manager for the Remembering World War One: Sharing History/Preserving Memories project at the Connecticut State Library.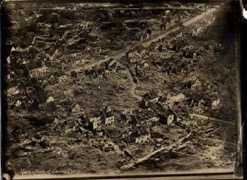 "They were called balloonatics because their job was so dangerous," said Pittsley. "You'd have to be a lunatic to do that."
These balloons were over enemy territory, not to drop bombs, shoot at the enemy, or to shoot at planes. They were taking aerial photos of the enemy territory and locations.
According to Connecticut State Library service records, Connecticut provided 25 aerial photographers to the war effort. Several of them trained in Rochester, N.Y., where Kodak had its headquarters and supported the U.S. Aerial Photography School.
Irene Skrybailo, of New Milford, has several photos from the balloonatics' missions. Her husband's grandfather, Sam Meltzer, was one of the aerial photographers. Meltzer was born in Romania, and later lived in New York.
"The lenses are insane," said Skrybailo. "They're four or five feet long."
Aerial photography was a necessity for the infantry and artillery at that time, according to a brief history of aerial photography published by Paul R. Baumann, retired professor of geography at the State University of New York college at Oneonta. However, pilots in War World I had significantly less of a life expectancy than the infantry soldiers on the ground.
Bauman wrote that the aerial photographers went up to 4,000 feet in the air, so they needed far reaching lenses for their cameras in order to get high quality images. But most of the time, they didn't go any higher so the anti-aircraft guns could protect the balloons.
Connecticut also helped the aerial photography effort through its manufacturing.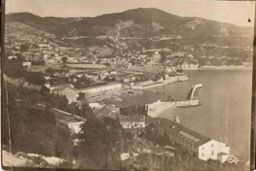 Goodyear––known for making tires––helped create the first kite balloons. These were large balloons which would go over enemy territory and they were called kite balloons because they were given fins and shaped like torpedoes to give them the ability to have direction during high winds, according to Goodyear.com.
"Goodyear made over 90 of the 117 procured for the U.S. Navy," according to the Navy History Foundation. Goodyear started making them in Akron, Ohio, and then created another location in Naugatuck, Conn where they exported material like tires and balloons for the war effort.