Southern journalism students presented their work to state officials and the public at the Connecticut State Library on April 6 on the 100th anniversary of the United States entrance into World War I.
Sandra Gomez-Aceves and Adrianna Rochester, two students from the Fall 2016 Journalism Capstone course, presented videos and photos from the final reporting projects completed in class. They were accompanied by Journalism Department Chair Cindy Simoneau and Assistant Professor of Journalism Jodie Mozdzer Gil.
Students in the capstone course reported stories of Connecticut's connection to World War I as part of the state project, "Remembering World War I." Their reporting included oral history videos of Connecticut residents who had family members serve during World War I.
The April 6 event featured an address from Gov. Dannel P. Malloy and other state officials. Walter W. Woodward, the Connecticut state historian, was among the speakers.
Before and after the address, a variety of groups that have participated in the project presented their work at tables in Memorial Hall at the Connecticut State Library.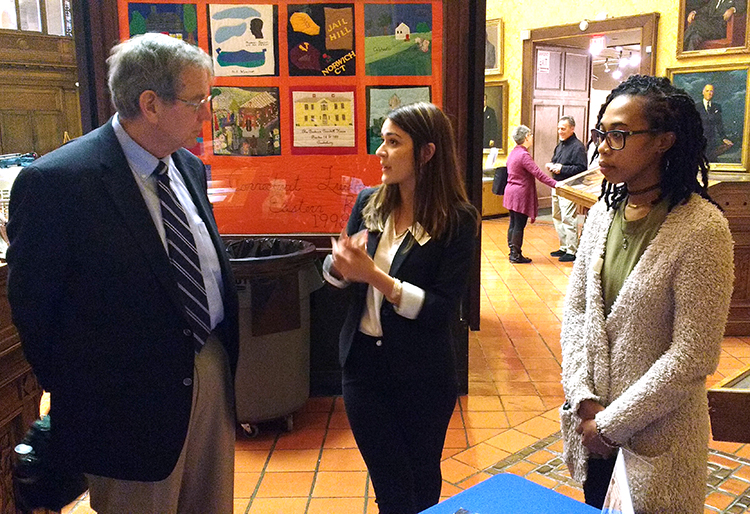 Featured image caption: Adrianna Rochester, Gov. Dannel P. Malloy and Sandra Gomez-Aceves pose for a photo after a ceremony at the Connecticut State Library April 6. | Jodie Mozdzer Gil photo