By Katherine G. Krajcik, SCSU Journalism student
Katherine Krajcik, a journalism student at Southern Connecticut State University, reported this story as part of Journalism Capstone coursework on World War I.
Disrespectful.
That's the way Dick Kennedy, commander of Stratford's Veterans of Foreign Wars Post, describes the treatment of the town's World War I monument on West Broad Street over the years.
The statue, a seated woman with a shield, was built to represent peace and patriotism, according to CTMonuments.net. It has taken its fair share of beatings throughout the years.
The female statue used to bear a sword in her right hand, but it was quickly stolen after opponents got upset that the monument was not keeping with the peace theme, according to CTMonuments.net.
A stolen sword is not the only vandalism that the monument has undergone over the years.
According to an article in the Stratford Star, around July 4, 2010, graffiti artists sprayed red paint into the eyes of the statue.
"At Stratford Day a few years ago, kids were jumping on flowerbeds and sitting on the monument," said Kennedy, who also serves on the Veterans Monument Preservation Commission for Academy Hill in Stratford.
A part of what Kennedy does for the commission involves raking and planting flower beds for all of the war monuments around Stratford, so this was upsetting for him to see.
The statue has also been criticized.
Residents like George Smith, wrote a letter to the editor in the Bridgeport Post on Nov. 11, 1983, expressing his disgust.
In the editorial he wrote, "What has our puritanical town ever done to warrant a monstrosity in bronze?"
He also goes on to write, "A half 'naked [lady]' on our Main Street right across from a church. 'Heck! There otta be a law—"
The artist designed the female statue based on a woman named Katie Steicher, according to archive photos that were collected and documented by Lewis Knapp, the former town historian and a major contributor to Stratford's Historical Society, which is also known as the Judson House.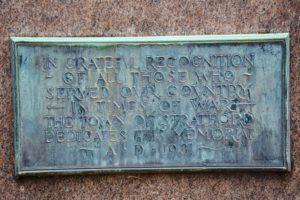 In 1919, the Permanent Memorial Committee had intentions to simply honor the 630 Stratford residents who served, especially the 13 who died in the war and are represented as the stars sitting in the statue's lap. No names appear on the statue.
Sandy Rutkowski, the current assistant director of the Judson House, said the town only has a record of 10 residents who died in World War I, but believes there are three more.
The town has the follow names of those who were killed in battle: Howard Curtis, Irwin Haug, Henry Evans, Kenneth Thompson, Edwin Schow, Harry Burns, George Blakely, Irving Stanton, Harold Dsunbye and Aymor Wood.