By Kevin Crompton, SCSU Journalism Student
Kevin Crompton, journalism student at Southern Connecticut State University, reported this story in 2018 as part of Journalism Capstone coursework on World War I.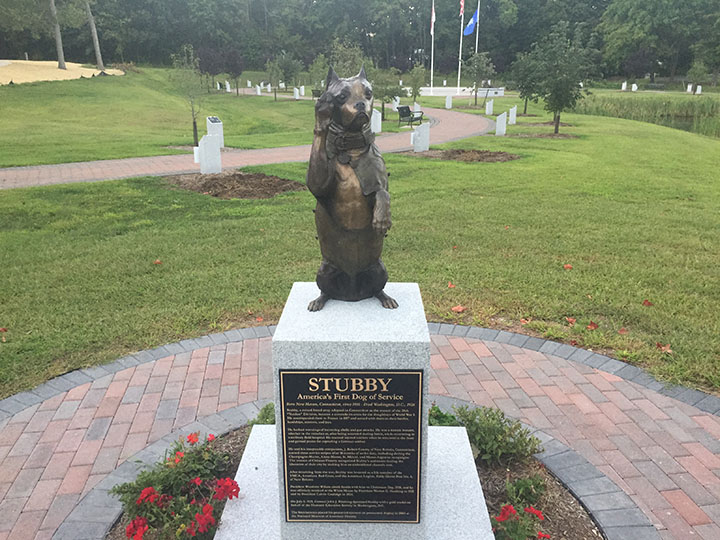 Barking warnings of incoming shells and gas attacks, rescuing wounded soldiers, boosting the morale of comrades and even capturing a German soldier, Sgt. Stubby is widely regarded as a World War I hero.
The monument for Sgt. Stubby was unveiled just outside Veterans Memorial Park in Middletown, Connecticut on Memorial Day weekend, May 26.
"The park is really to represent and memorialize humans," said Curt Deane, grandson of Robert J. Conroy, the 102nd Regiment soldier who took care of Stubby during the war. "I just kind of felt like to have him inside the park, some people might take offense."
The bronze life-size statue of Stubby at 2 feet, 6 inches tall, sits on his hind legs atop a granite base saluting visitors upon entrance into the park.
"Since his big deal was that he could salute, why not have him near the entrance where he's saluting and honoring the families of the fallen veterans," said Deane.
The monument, including the brick walk-way leading up to Stubby, cost about $84,000. A portion of the money was donated from the U.S. War Dog Association while $30,000 was provided, and raised, by Deane and his family.
California artist/sculptor Susan Bahary designed, crafted and built the statue. Deane said he and his family chose Bahary to design the statue after seeing her work on the "Always Faithful" war dog memorial which was originally unveiled at the Pentagon in 1994.
"Animals are very hard to recreate as sculptors and she seemed to really have it down," said Deane.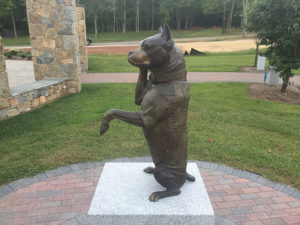 Bahary specializes in bronze, acrylic and stainless steel. She used the plaster of Paris replica of Stubby, currently located at the Smithsonian The Price of Freedom exhibition in Washington, D.C., as a model to help sculpt the monument and ensure the size was true to reality. The replica has Stubby's ashes inside, while the monument and plaster of Paris replica both show Stubby fitted with a vest, embroidered with his name, rank, infantry and unit.
According to a 1919 article in the Hartford Courant, Stubby was found wandering the campus of Yale University in New Haven, and was befriended by Conroy, a New Britain native. Deane said despite Stubby being found in New Haven, the war hero is enshrined in Middletown because Yale felt Stubby would pose a threat to their bulldog mascot.
"Yale didn't want it," said Deane. "We asked, we prodded, we tried, but Yale [athletic department] felt he was going to be unfair competition to their mascot."
While Yale already had their bulldog mascot, Stubby became the first mascot for Georgetown University where Conroy attended law school after the war. Stubby was a mix breed dog. Deane said Stubby was more Staffordshire terrier than anything else, but one breed cannot solely be used to describe Stubby.
After Yale declined the request, Deane said he and his family thought New Britain would make logical sense as a home for the monument however, he said there was no appropriate place to put a statue.
"Just by serendipity, we got a call from Susan Martuchi, who was one of the founders of [Veterans Memorial Park in Middletown]," said Deane. "She heard through someone that we were thinking about doing a statue and she contacted me and I came down and saw [Veterans Memorial Park] and said 'you know what it's perfect.'"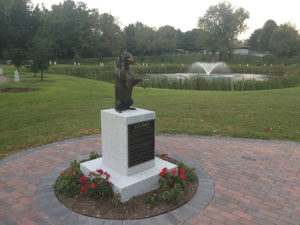 Deane said Martuchi has plans to add a large plaque near the Stubby Monument detailing other military service dogs from various other wars. The goal for completion of that plaque is Memorial Day 2019.
"It just all fell into place," said Deane.
Stubby and Conroy were members of the 102ndInfantry Regiment, 26thYankee Division. Together they served 18 months of active duty in World War I, with Stubby later going on to meet with Presidents Woodrow Wilson, Warren G. Harding and Calvin Coolidge.
Stubby even has his own animated film. "Stubby: An American Hero," released in April 2018, one month before the unveiling of the monument.
"Our goal is to make people more aware of how important service dogs are, and to send contributions in to organizations that train service dogs for returning soldiers with PTSD and who need help," said Deane. "I promised my grandfather, before he died, that I would keep Stubby's memory alive and this is how we're doing it."
https://youtu.be/kf1mnFR2YxI