SCSU Journalism student Sandra Gomez-Aceves has received the Richard Peck Scholarship Award for $1,000 from the Connecticut Society of Professional Journalists.
The award was presented at the Connecticut Excellence in Journalism Award ceremony May 26 at Memories at the Tradition in Wallingford, Connecticut.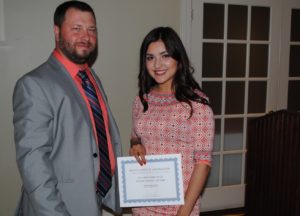 Gomez-Aceves is a junior at Southern Connecticut State University from Meriden, Connecticut. She is the news director for the campus television station, SCSU TV, and has completed an internship at the Meriden Record-Journal. She will start an internship at the Hartford Courant this summer. She is working toward a career in broadcast journalism, and would like to one day work at Univision.
The Connecticut Pro Chapter of the Society of Professional Journalists hosts the Excellence in Journalism Award ceremony each May to recognize journalists from across the state who entered the Excellence in Journalism contest, to award scholarships, to induct new members into the Connecticut Journalism Hall of Fame, and to give out other awards.
Students receive awards
Six SCSU Journalism students received awards in the professional 2015 Excellence in Journalism Contest for their work as part of the Multimedia Journalism class.
Under the direction of Assistant Professor Jodie Gil, the students teamed up with the New Haven Independent to report on high school sports and athletes during the Fall 2015 semester.
The winning entries were:
Hyperlocal/Sports Feature
Second Place: Wrestlers aim high as new season approaches; New Haven Independent; Sandra Gomez-Aceves and Allaysia Varnado
Hyperlocal/Video Storytelling
Second Place: Hillhouse Team overcame practice field challenge; New Haven Independent; Edgar Ayala and Jared Klim
Third Place: Hopkins swimmer looks toward Olympic Trial; New Haven Independent; Katherine G. Krajcik and Amy Kulikowski
See a full list of winners in the contest on the Connecticut SPJ website.
SCSU Journalism Faculty Recognized
Two SCSU Journalism faculty members were re-elected to terms on the Board of Directors for the Connecticut Pro Chapter of the Society of Professional Journalists at the awards dinner May 26.
Assistant professor Jodie Mozdzer Gil was elected to serve another one-year term as the board's treasurer for 2016-17. Gil is a past president of the board, of which she has been a member since 2009.
Adjunct professor Elizabeth Glagowski was also elected to serve another two-year term on the board. She has served on the board for six years.
Four faculty members were also recognized for their work as past presidents for the Connecticut Pro Chapter of SPJ. The past presidents were recognized as part of the board's 50th anniversary celebration.
Included in the above photo of past presidents:
Journalism Department chair Cindy Simoneau, who served from 1993 to 1995, from 2008 to 2010 and from 2011 to 2012
Professor Jerry Dunklee, who served from 1997 to 1999
Assistant Professor Jodie Mozdzer Gil, who served from 2012 to 2014
Adjunct professor Kenn Venit, who served from 1990 to 1991 and from 2004 to 2006.
Faculty Awards
SCSU Journalism faculty and adjunct faculty were among the winners in the professional journalism contest.
Dom Amore, a sports reporter for the Hartford Courant who teaches sports reporting at Southern, won five awards.
Regional A/Sports Column
Second Place: For Mets Terry Collins, a dream come true
Regional A/Sports Feature
First Place: Long memory for baseball
Second Place: Amida Brimah's long journey from Ghana to UConn
Regional A/Sports News
Second Place: For UConn, a hard loss to swallow
Third Place: Under World Series glare, things turn sour for Mets in game 4
Jodie Mozdzer Gil, an assistant professor of Journalism, won one award.
Hyperlocal/Government
Second Place: Derby school board violates nepotism policy
Feature photo: Past presidents of Connecticut SPJ gathered at the Connecticut Excellence in Journalism Awards dinner May 26 in Wallingford, Connecticut for the board's 50th anniversary celebration. Back row, left to right: Jerry Dunklee, Leonard Honeyman, Paul Gough, Pat Sheehan, Kenn Venit, Steve Kalb, Luther Turmelle. Front row, left to right: Paul Singley, Cindy Simoneau, Jodie Mozdzer Gil, Sherman London.