For the last year, Journalism Department Chair Cindy Simoneau and Assistant Professor Jodie Mozdzer Gil have been working with the Connecticut State Library and Southern students to tell stories of World War I.
In August, Simoneau and Gil presented their work during an hour-long panel at the Association for Education in Journalism and Mass Communication conference in Chicago, Ill.
The session, "Finding and Telling WWI Stories When the Soldiers Are Gone," detailed the collaborative capstone project, which sends journalism students out to talk to Connecticut residents about their family members' involvement in World War I. With the 100th anniversary of the United States entry into the war in April 2017, this year is full of observances of the war.
The state library has been looking for World War I stories from residents to help create a permanent record for future generations.
During the conference workshop, Simoneau and Gil highlighted ways other journalism professors can complete similar projects with their own students. The presentation was part of a four-hour pre-conference workshop called "Getting Out of the Classroom: Tea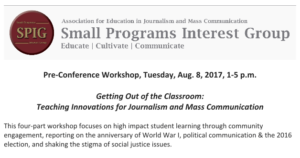 ching Innovations for Journalism and Mass Communication."
The event was held on Aug. 8 from 1 to 5 p.m.
Top photo: Cindy Simoneau, SCSU Journalism Department chair, presents on the department's capstone project during a pre-conference workshop at the AEJMC conference in Chicago in August 2017.