By Matthew Johnson, SCSU Journalism student
Matthew Johnson, journalism student at Southern Connecticut State University, reported this story in 2017 as part of Journalism Capstone coursework on World War I.
Even though he never served in the military, patriotism and loyalty to country was at the heart of poetry by Stamford resident Charles Crandall during World War I. His commitment was unwavering despite losing his son during a battle in France.
A former New York journalist, Crandall began his poetry career by focusing on rural themes, such as man's part in nature, according to a bio on the Stamford Historical Society website. But he started writing poems about battles during the Spanish-American War.
Crandall had never experienced the horrors of fighting in war for himself, but he had sent four of his sons to fight in World War I.
Crandall's son Robert, a lieutenant, died during battle in France on July 18, 1918.
All 109 of Crandall's poems are now available at the Stamford Historical Society, and on the society's website.
The poems written by Crandall painted war in a positive light, which contrasted quite a bit from those written by popular poets at the time.
One such poet was British soldier Siegfried Sassoon. In contrast to Crandall, Sassoon wrote poetry that focused on the horrors of being in the trenches and the divide between the home front and the front lines.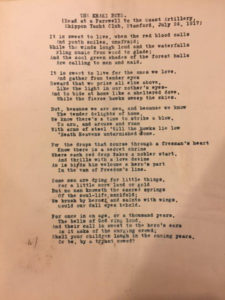 "Siegfried Sassoon was very well known at the outbreak of the war," said Dan Burke, of the Stamford Historical Society. "Poetry and his writings in general began to become not necessarily anti-war, but anti what was going on. He began to publicly protest how the war was being conducted."
Sassoon used verse to focus on how people who weren't on the front lines, but felt patriotic, were one of the main causes of the war. Crandall, on the other hand, used his platform in order to create positive messages about fighting for one's country.
In his poem, The Boys in Khaki, Crandall wrote, "It is sweet to live when blood red calls and youth smiles, unafraid."
Obtaining Crandall's poems was not an easy task, according to Ron Marcus, a librarian at the Stamford Historical Society.
"An older gentleman here told me that he had approached Charles Crandall's son for any papers of his father," Marcus said. "He was told that they were all destroyed years ago."
According to Marcus, in the late 1980s, a member of the Stamford Historical Society, Betty Tolli, had contacted him about the poems.
"She called me on the phone and said she was at a tag sale and found some old papers that had poetry in it and they seemed to be by a Stamford poet," Marcus said. "She said 'Would you like them? They're by a fellow named Crandall,' and I said, 'Betty, yes please.'"
Tolli had found the papers inside of a trunk that she had purchased from the tag sale.
"She wanted a little trunk for her daughter and the woman who sold it to her told her that the papers came with it," Marcus said. "She could keep it or she could throw it in the dumpster. So she telephoned me just by good fortune."
Crandall eventually retired to a farm on Cedar Heights Road in Stamford, Conn. and wrote until he fell ill with cancer. On March 23, 1923 he wrote a letter thanking his housekeeper, went to his barn, and killed himself with a pistol, according to his bio.
Featured image: Cedar Heights Road in Stamford Conn., where poet, Charles Crandall wrote his poetry and eventually took his own life. Photo was taken by Matthew Johnson