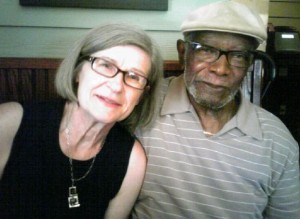 'People are more respectful nowadays'
by Trevon Freeman
MERIDEN, Conn. – Large propellers sliced through the air. The engines filled the sky with a rumbling sound as she watched the planes fly over her head.
Born into World War II, her parents informed her as a youth about the period of time and as a 4-year-old girl she was always cautious of what the planes were flying by for. With no patience to stand in the same spot and already frightened, the little girl ran for a place to hide but first she made sure to warn her parents.
"HIDE! HIDE! HIDE! GERMAN!"
Czeslawa Wood, 75, said she always believed the Germans were ready to drop bombs on her home city of Poznan, Poland. Wood said her parents continuously reminded her not too worry so much.
There was destruction around her but, she knew deep down there was actually more than just the planes to worry about. Limited spaced forced her family to gather into one apartment.
"We lived with my aunt with just a kitchen and one little room for us to share," said Wood. "We cook, we eat, we sleep, and entertain for years."
Now in Meriden, Connecticut for over 50 years, Wood said having her own place with more than just those two rooms was a personal change from what she was used to seeing as a child.
"That was tough because we had no water, no plumbing for the bathrooms," said Wood. "(We were always) going to the outhouses to use the toilet because there was no toilet in the house."
The process of traveling to a well and boiling the water to take a bath while also cleaning her clothes is one part Wood said she doesn't miss.
"I remember those years," said Wood.
The dangers of war were not the only problems she has feared. Starting a new life in a different country gave her more to worry about.
By the age of 21, Wood decided to leave Poland for the United States with a previous boyfriend. It wasn't until 1974 when she met her husband Love Wood, 84, that she discovered the treatment of people here was different than in her country.
More importantly, segregation was still near its highest point. When she and Love, an African American from Florida, were together Wood said she learned interracial marriage was not accepted at that time through several experiences.
"You sometimes walk into a restaurant and you see people turning their heads to look at you," said Wood. "They don't say anything but they whisper."
She recalls a vacation in upstate New York, when she made reservations to a hotel. She, her husband and children arrived. The couple walked up to the front desk to get their room situated but the hotel worker denied them access.
He stared at the two people before him as if he had never seen two people of different colors stand next to one another. To her surprise, Wood was told there were never reservations made and no room for her family. She then was forced to find another place to stay.
"That was a nasty experience for me," said Wood.
The most memorable situation Wood had was when in the process of moving into a new apartment in Meriden. With money already put down toward payments, she began to fix up the space.
She scrubbed the floors, cleaned the bathrooms, and measured the window sizes for the curtains. One day she asked her husband to go by the apartment to help her with finishing up.
When the two arrived, the owner of the apartment spotted the couple together for the first time. Wood said her hope of moving in officially disappeared.
"He refused to give me the apartment," said Wood. "I already had the apartment. I gave him the deposit but he gave it back to me."
Wood said the owner eventually told the couple he forgot he promised the apartment to a member of his family. Deep down she realized he was not telling the truth but needed an excuse.
"He never said the real reason but we know the reason," said Wood.
After taking the issue to her lawyer, Wood was faced with two options. Either she fight for her apartment and hate to live there or she could look for another place. With no thought of living miserably there, she moved on with her search.
Having to go through these experiences to be accepted in an interracial couple Wood said each moment was surprising compared to how she lived in Poland.
"I lived in a Communist country, over there everybody is equal," said Wood. "There was no rich, no poor, everybody was on the same level."
Thirty four years later and still married, Wood has noticed the times have changed with being in a interracial marriage.
"People are more respectful now a days," said Wood. "They accept all nationalities."