Some stories are better told from above.
When Vern Williams, assistant professor of Journalism, heard about the construction of a Remembrance Garden behind Morrill Hall, he thought it would make a good story to tell with the help of a drone.
The garden, the first item in an envisioned larger Reflection Garden project, honors the four Southern alumnae who died in the Sandy Hook Elementary School shooting in December 2012.
Its creation was a true group effort. The project was created by the Julie Moir Messervy Design Studio, based on an original concept drawing from former Southern student Carly Barns.
Those involved in the installation included employees at Southern, BrightView Landscapes, LLC, Julie Moir Messervy Design Studio, as well as local nurseries and greenhouses. Carpentry students from Eli Whitney Technical High School also helped with the project, by building a curved bench that faces a large wooden sculpture.
The garden was built on the side of a slope overlooking the Beaver Pond behind Morrill and Engleman halls. A bird's-eye-view of the process allows a sense of scale and the steps involved in building the monument.
Over the course of 10 days in late April and early May, Williams staked out shots using his Phantom 4 Pro drone and his Nikon and Sony still cameras.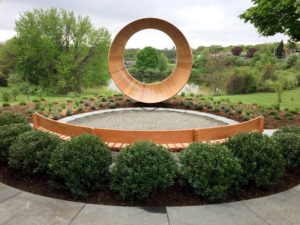 He was there when workers first crafted an earth mound; Williams' drone hovered overhead as workers poured supports for monument. "Still-mations," or short sequences of still photos, helped showcase the memorial being unloaded, and dirt being dumped into a wheelbarrow.
Williams caught close-ups of volunteers' hands planting flowers, and panoramas of the project taking shape. When carpentry students from Eli Whitney Technical High School assembled benches at the site, Williams was able to mix a wide shot from above with a medium shot of the benches being installed.
The video, embedded above, was shown during the dedication ceremony for the garden on May 4, 2018. Williams plans to use the footage from the project to augment his JRN 170 – Introduction to Drone Technology course in Fall 2018.
The SCSU Alumni Association featured Williams' video in its June newsletter.