High school journalism teachers, advisers and students attended workshops at Southern this summer to learn more about the journalism industry.
Cindy Simoneau, chair of the Southern Connecticut State University Journalism Department, organized the teacher training workshops, which ran from June 27 through June 30 in Morrill Hall, and the student writing workshops, which were held in July.
During the teacher workshops, high school teachers attended sessions on story planning, editing, AP Style, shooting videos and photos, page planning and design, and social media.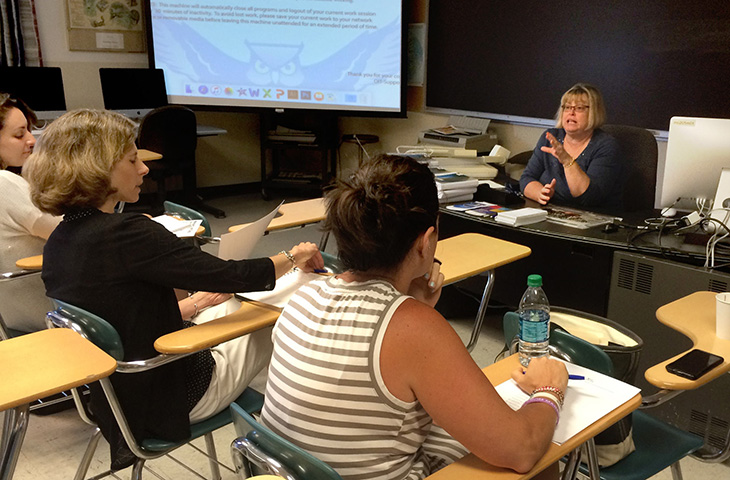 The teachers came from Amity High School in Woodbridge, Ansonia High School, Frank Scott Bunnell High School in Stratford, Common Ground High School in New Haven and Joseph A. Foran High School in Milford.
"The sessions were organized to meet the needs of high school teachers who have had no formal training to teach journalism. Many are leading newspaper staffs and needed help at every level of that process," said Simoneau. "I am happy we were able to share our expertise with these teachers."
In addition to Simoneau's sessions on writing, editing and page flow, assistant professors Jodie Mozdzer Gil and Vern Williams hosted workshops on social media and photography.
The program was created in response to requests from educators who attend the department's annual High School Journalism Day each fall.
"So successful were the workshops that we extended them to a fifth day to teach the basics of writing," Simoneau said.
The department plans to continue the program in summer 2017.
During the student writing workshops, professors in the Journalism Department at Southern hosted sessions on writing, coming up with story ideas, layout, social media and more.
Any Connecticut high school student interested in learning more about journalism and writing was welcome to attend.
The workshops were held on July 11, 12 and 13 from 8:30 a.m. to noon, at Southern Connecticut State University, 501 Crescent St. in New Haven.
Students who participated in the workshops, as well as other high school students in the state, can continue working with CTTeens, a group of high school students led by Simoneau. Throughout the school year, CTTeens students report and write articles of interest to high school students in the state, and publish the work on the CTTeens website.
The student workshops will be offered again during the week of July 10, 2017.
To sign up for the 2017 teacher or student workshops, contact Cindy Simoneau at simoneauc1@southernct.edu.
Top photo: Lisa Farrell, a teacher at Joseph A. Foran High School in Milford, talks during a workshop at Southern Connecticut State University in June. | Vern Williams photo