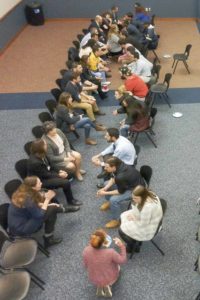 Journalism students mingled with the pros on Dec. 6, when the SCSU SPJ chapter hosted its annual Journalism Alumni Night.
Alumni represented different sectors of the journalism industry, including sports reporting, public relations, editing, news writing, non profits and even entrepreneurs who have started websites and podcasts.
Graduation years ranged from 1981 to students who graduated in May 2017.
From the most recent graduating class, Katie Krajcik is now working as an outreach videographer for the Connecticut House Republicans, Dylan Haviland is working as a staff writer for 1to1Media, and Josh Falcone is working as a multi-platform producer for Hearst Connecticut Media.
The event took place in the Adanti Student Center Ballroom.
More photos of the event are available in the slideshow below.