By Edgar Ayala and Phil Zoppi, SCSU Journalism student
Edgar Ayala and Phil Zoppi, journalism students at Southern Connecticut State University, reported this story as part of Journalism Capstone coursework on World War I.
When you hear the name Jack Barry in Meriden you think Little League baseball and Major League Baseball standout. Another title given to Barry was that of war veteran.
Barry, who played for the Philadelphia Athletics and Boston Red Sox, missed the 1918 baseball season along with four Red Sox teammates who enlisted in the U.S. Naval Reserve as the United States entered World War I.
That's the year the Red Sox won the World Series over the Chicago Cubs – Boston's last World Series title until 2004. In his 11-year MLB career, Barry's teams won four World Series and five American League Pennants.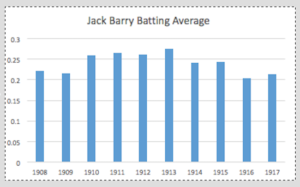 He batted .243 for his career average, hitting 10 home runs, stealing 153 bases, and knocking in 532 RBI's in 1,223 games.
Barry had previously played baseball for the College of Holy Cross in Worcester, Mass., which he attended from 1905-08.
To see a full timeline of his baseball and war service, click here.
In the reserves, Barry was called up as a yeoman at the Charlestown Navy Yard in Boston. There, he ran track and managed the baseball team.
Serving in the war ultimately led Barry to retire from professional baseball.
Barry injured his legs and knees in the Navy after returning from the war, according to the Society for Baseball Research. After serving in the war, Barry continued to play baseball, but lost his player-manager job with the Red Sox.
At 32 years old in 1919, he decided to retire due to his World War I injuries, losing his player-manager career, and his decline in his performances after returning from war.
In 1921, he returned to his alma mater, Holy Cross, to reign as the long-term, 40-year baseball coach with the best college record in baseball at the time.
Barry's name in his native Connecticut has not been forgotten, as his hometown, Meriden, named its Little League baseball association after him.
Jack Barry Little League has been an established league for 66 years. As of 2016, the organization had 30 teams.
At the age of 73, Barry passed in his home in Massachusetts due to lung cancer – three days before his 74th birthday. The family buried him in Meriden, Conn. at Sacred Heart Cemetery.
Featured image: Jack Barry in his Philadelphia Athletics uniform. | Hartford Courant photo