'We enjoyed being together'
By Derek Torrellas
(Reporter's note: The subject, Margie Timmons, is the writer's great aunt.)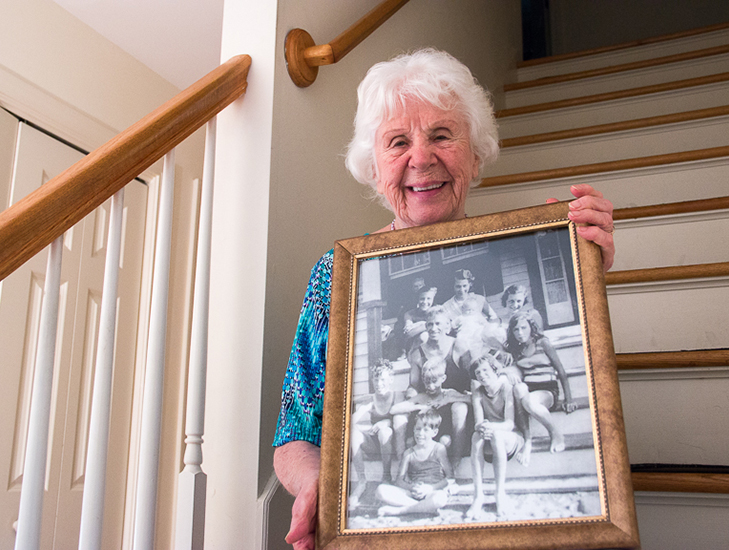 CLINTON, Conn. – To everyone in her neighborhood, Margie Timmons was known as the "newspaper lady." The year was 1930, and she would ride her red bicycle around Brooklyn's Heyward Street, learning who was doing what, and then pass along the "news" as she continued her route.
"If somebody had a baby, if somebody died, if somebody lost their job. Anything you'd put in a newspaper, I'd tell them about it," Timmons said.
She recited the neighborhood goings-on to her family at the end of the day. Every evening, all eight children and her parents would sit around and talk. This was common practice among most families she knew, according to Timmons.
Memories of "enjoying each other's company" is where Timmons, now 94, said she has seen one of the greatest changes in her lifetime. The social dynamic of a family – especially communication – is different, and, according to Timmons: "Family life is sort of diminishing."
https://www.youtube.com/watch?v=Cc1JbOWAnZU
"Today, this isn't happening, because a lot of families hardly get together to eat," she said. "They're either on their computers or their cell phones, and as soon as they finish eating they disappear."
Contemporary technology that is ever-present in most peoples' lives is one of the factors, Timmons said. However, technology affecting a family's social life is far older than the computers and cell phones Timmons mentioned.
Radio signals entering a cathode ray tube and painting black and white images on a phosphor screen heralded the introduction of televisions into countless American living rooms.
Timmons said her house was not one of the early buyers of a television set, though they were not the last, either. Her father wasn't going to buy one until he was walking home from work along Jamaica Avenue in Queens and found his son, Bob, sitting on the sidewalk with a chair from their living room. Bob was watching TV through the window of an electronics store.
Timmons remembered her brother saying, "If you're not going to get me a television, I'll look at it someplace else."
Their house had a TV within a few months, purchased from that very store, she said, sometime around 1943 or 1944.
With the new television set came rules. It was only watched after dinner, dishes, cleanup, and homework. They began to see their neighbors less, she said, because every family was home watching their own television. Estimates from the Radio Electronics Television Manufacturers Association show that only .1 percent of American homes had a TV set in 1946. In six years time, that number rocketed to 53 percent. The way people began to spend more time with those devices in lieu of others' company is similar to people's use of computers much later on, according to Timmons.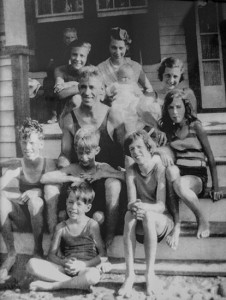 Family dinners were a daily occurrence, and even after the introduction of TVs, she said the dinners preceded any TV viewing at her house. Meals where families sat down together became less frequent over the coming decades.
She said she thinks people today might not place as much importance on the family gathering for dinners, "eating on-the-run," instead. One of her other reasons is the level of involvement children (and consequently, parents) have in sports.
"I think sports has a lot to do with it," she said. "All these mothers have to drive kids to all these places, they don't have the time."
"We didn't have that years ago," she said, meaning that children did, of course, play sports, but parental participation was little to none.
"Also, when you got old enough, you got a job," she said. "And there goes the sports."
Swapping time at the dinner table for time at the soccer field is part of a larger idea about priorities that Timmons talked about. She said many people are "too busy," both career-related and not, to regularly be home for dinner.
Yet hard-working professional lives and active personal lives are nothing new. Timmons' own father, Frank, worked two jobs when she was young. In-between shifts as a New York City fireman, her father drove a delivery truck for Dugan's Bakery. He would come home smelling like freshly baked bread and cakes, but he rarely missed a family dinner.
The difference, according to Timmons, was in the precedence that being with family had within their personal and professional obligations.
"We were sure we made time," she said. "Or, have a good excuse why we weren't there."
There were few occasions during her childhood when all 10 family members were not present. Timmons never spoke of the social mealtimes as a chore; she only talked about them in positive terms.
"We enjoyed being together to hear what kind of a day everybody had, and everybody had something to say," she said. "That was our entertainment for the night."
Timmons remembered one point in the early 1970s, after both parents had passed away, conversing with her sister Virginia and realizing that their once-frequent dinners were becoming a thing of the past.
Aside from some losing family mealtimes altogether, there is the distraction brought on by cell phones, Timmons said. Once people are done eating, they disappear straight for their computers or cell phones. Timmons does not appear isolated in her view of cell phones at the dinner table. According to the Pew Research Center, 88 percent of American adults surveyed said using a cell phone during a family dinner is "generally not OK."
Telephones themselves have undergone an extensive transformation in her lifetime. Gone are the wall-mounted rotary phones, and in their place, pocket-sized cellular phones where text messages exist alongside voice calls.
She called text messages "cold," and "terrible." Timmons, though, hasn't actually sent a text message herself.
"I tried it," she said, "but my fingers can't do it."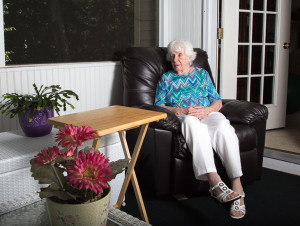 People, she said, with heads down absorbed in their phones are like zombies. What scares her is the thought of distracted cell phone users at the wheel of a moving car.
Timmons' feelings about the use of computers and phones in regards to communication are mixed. After dismissing cell phones, she only had good things to say about video chats over the Internet, like Skype.
"It's like magic," she said." "You can see somebody you love that you can't get to."
She paused, after considering video chats, and said there are some good aspects to the newer methods people communicate with.
Her light praise was rounded out with a caution: "If people use things responsibly, you know, and not overdo it."
With all Timmons' attention on the decades of change centered on family life and how families interact, she calls herself a family-oriented person. Family, she said, is what she values most in her life.
"I just want to be remembered for the love that I show for people, and I know that the people out there, who mean a lot to me, have shown me."
Though she first offered an alternate legacy.
"What do I want to be most remembered for," Timmons asked herself aloud. "My chocolate chip cookies," she said, with a laugh.