By Karlie Borges, SCSU Journalism student
Karlie Borges, a journalism student at Southern Connecticut State University, reported this story as part of Journalism Capstone coursework on World War I.
A boulder-sized monument with a bronze plaque on Oxford's upper green honors the brave residents who served in the first World War.
For 85 years, the monument, with 38 names of Oxford residents, has rested near the intersection of Seymour-Southbury and Academy roads.
However, according to Dorothy DeBisschop, the second vice president of Oxford's Historical Society, the names listed on the plaque are not entirely accurate.
For example, there are several soldiers who are listed in the book, Connecticut Men and Women in the Armed Forces of the US During the World War 1917-1920, who do not appear on the monument's plaque. And some names listed were not residents of town.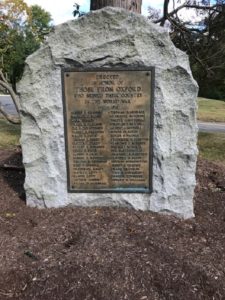 "Because the stone wasn't laid until 1931, it's possible those soldiers no longer had people in town to be sure they were included in the listing," DeBisschop said. "Also, people who are actually listed in Oxford sometimes are listed as Southbury or Seymour in military listings because they were in a rural route out of Seymour or Southbury."
DeBisschop said that the state had a published list of WWI soldiers and they were listed by name and by the towns that the individual got their mail service from at the time they joined the military.
According to the book History of the Town of Oxford, Connecticut by Norman Litchfield and Sabina Connolly Hoyt, the monument was built by the Oxford Grange in 1931. A fund for the monument was originally started in 1920 and around a decade later, the Grange took an active interest in completing the fund and building the monument.
"It was the kind of project that didn't have a deadline and there was no military organization in town to spearhead it," DeBisschop said about the gap in time between when the fund started and when the monument was built. "Today we have an American Legion and if there was a need to make a monument they would make noise about it. But at the time we had no such thing and there was no local pressure to hurry up and do it. Although the money had been set aside, nobody was saying 'Let's do it now.'"
The monument won't be updated, DeBisschop said. Instead, any new names can be added to a small plaque in Town Hall.
"The original brass plaque on the stone would not be changed. There's no way to add on to that, and it's been there for so long there would be people who would resent it being taken down," DeBisschop said.
View more photos of Connecticut monuments on History Pin.