By Adrianna Rochester, SCSU Journalism student
Adrianna Rochester, a journalism student at Southern Connecticut State University, reported this story as part of Journalism Capstone coursework on World War I.
It's the monument that is no more.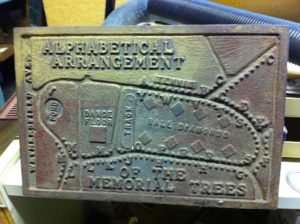 The city of Hartford, like other communities, sought ways to honor war veterans when they returned from World War I, and settled on planting trees with memorial plaques.
The "Trees of Honor," located in 
Colt Park on Wethersfield Avenue, consisted of w
ooden plaques on trees honoring the name of veterans. Due 
to weathering, the plaques were replaced with cast-iron ones in 1926. 
As years passed, the trees began 
to die due to Dutch elm tree disease, according to the

Hartford Courant in

 July 1948. Efforts were made to replace them, but by the 
1960s the trees were removed.
Instead of replanting, the plaques were placed in 
storage and the memorial was soon forgotten until they were rediscovered in 2013, according 
to
Connecticut Explored. 
Currently there's no WWI memorial in Colt Park, but since rediscovering the trees' 
plaques a
GoFundMe
was launched to raise money to replace the 30 damaged or missing 
plaques.
These efforts are a part of a restoration plan to get the memorial back in its original location on the park's lands. To replace each plaque the estimated cost is about $325.
According to history professor, Andrew Walsh of Trinity College, when America entered 
the Great War Colt Park was still fairly new.
The park was donated to the city by Elizabeth 
Colt, widow to Samuel Colt who was the founder of Colt's Manufacturing Company for firearms 
in the 1900s. 
"Colt Park was at the center of the manufacturing buildings and neighborhoods such as 
Frog Hallow and New Park," Walsh said. "So the park's design targeted the working class 
audience, making it easy for them to travel to work and it gave the families a place to congregate especially during the Great War."
Also in Hartford is the statewide veterans memorials designed to honor all of the 
state's veterans from all the military branches who fought in many of the nation's conflicts.