By Lynandro Simmons, SCSU Journalism student
Lynandro Simmons, a journalism student at Southern Connecticut State University, reported this story as part of Journalism Capstone coursework on World War I. This article originally appeared in the New Haven Independent. 
When New Haven resident Jeanne Insalaco focused her Nikon 5200 camera on the Prospect Soldiers' Monument recently, she drew from her experience shooting various monuments in New Haven.
She looked for a good scene setter shot of the Prospect statue, situated on the town green on 23 Center St., and then got close-up images of all the names listed on both sides of the monument's base.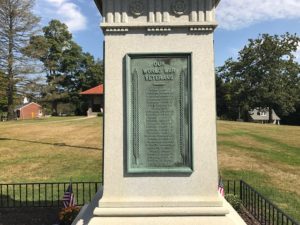 "A lot of times you can't read them," said Insalaco, who lives in Westville. "So you have to bring [the photos] home and really pull them up close to be able to."
Insalaco has been photographing and transcribing monuments in New Haven and around Connecticut for the last three years. The work is part of the international Honor Roll Project, which digitizes historical markers to help researchers find names online.
"The main idea of the project is to get the names online so they're accessible to search engines for friends and family," said Heather Wilkinson Rojo, a New Hampshire genealogist and historian who started the project in 2009. "People sit down at the computer and say 'Let's Google an ancestor's name.' Sometimes it's the first time they find out someone was in World War I, or the Civil War, or World War II."
As the Honor Roll Project originated in New England, many of the monuments are from the region, with 25 posts from 14 Connecticut towns. It has grown to include 40 states and four outside countries.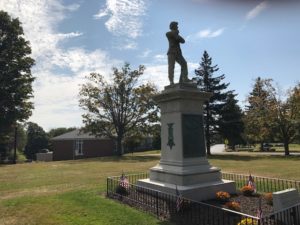 Insalaco started contributing to the project in 2014, with the Soldiers' and Sailors' monument on East Rock.
"Since I live in New Haven when I started, I decided to first do all of the New Haven ones," said Insalaco.
In addition to East Rock, Insalaco has also transcribed the Civil War monument dedicated to the 9th Regiment, which is located in New Haven, the Vietnam Memorial at Long Wharf, and the World War I memorial on the flagpole on the Green.
Her process of documenting monuments begins with taking as many photos as she can at the site. Then, she takes home the photos so she can zoom in and get names. Sometimes getting the names alone can provide a challenge.
Insalaco said to capture the names on the World War I memorial on the Green she walked up as close possible and made sure to take numerous photos.
"You take your shots, plus you take extra pictures of the plaque," she said.
On a laptop, these photos can be more clear once zoomed in. Insalaco's camera also helps because of the high-quality photos it can capture.
"I zoom in and go line by line," said Insalaco. "I usually write [the names] on a piece of paper before I retype them."
Another challenge can be the location of the monument. The Armistice Monument in West Haven was surrounded by bushes and a small fence which made it difficult to read, said Insalaco.
"So here you have this monument and if I had traveled 100 miles to take a photograph I wouldn't have even been able to see my ancestor's name," she said.
Insalaco said that when she visits Georgia — where she is originally from — she also searches for monuments in counties her ancestors are from. She has added three Georgia monuments to the project, as well.
"I've done family research for over 25 years," she said. "So I've always had the passion for going to my ancestors' graves."
Others have traveled to Connecticut with the same goal in mind.
For example, Schalene Dagutis, a Virginia resident, contributed five Connecticut entries.
"My husband works in Albany, New York and I go up with him a couple times a year," she said. "So when he's at work or on the weekends we drive around exploring."
Dagutis said she was always a history buff and her father was interested in genealogy. She took over the family research in 2012 when her father's health wouldn't allow him to continue the work.
Insalaco said she has seen positive results doing this work.
"I've had a couple of people find their ancestors' names," she said. "It's rewarding that you're able to give something back to someone."
To see the full list of names on the World War I plaque on Soldiers' Monument, click here.
Jodie Mozdzer Gil, assistant professor of Journalism, contributed to reporting on this story.