By Dylan Haviland, Sandra Gomez-Aceves and Edgar Ayala, SCSU Journalism students
Dylan Haviland, Sandra Gomez-Aceves and Edgar Ayala, journalism students at Southern Connecticut State University, reported this story in 2016 as part of Journalism Capstone coursework on World War I.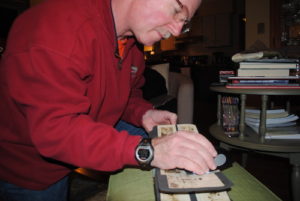 U.S. Navy Cmdr. William P. Shea's love of photography has helped preserve history for his family and beyond.
His grandson, Ret. Col. William Shea, of Middletown, flipped through the photographs his grandfather took through his journey in World War I, showing visitors a photograph fading with age, depicting the distant rise of Mt. Pico, Azores from a ship in 1917.

On a ship home from the war, Cmdr. Shea met his future wife, Hanna M. Horgan, a first lieutenant nurse.
He served in the New York Naval Militia during and after World War I.

"From what I can tell he definitely had a need for service to our nation and that is something I was taught early on," said Shea.
Born in Manhattan to an Irish-Catholic family, Shea would go on to enlist in New York Naval Militia in February 1913 as a seaman, about a year before World War I began.

In 1917 the U.S.S. May, on which he served, was called into service for the war. Shea, at the time, was a chief petty officer. According to his grandson, Shea served around Brest, France while stationed on the U.S.S. May.
"At some point in early 1919 he transferred to the U.S.S. Mobile, which served as a troop transport," Shea said. "He served through December of 1919 and they would go to France, pick up a lot of soldiers and then transport them back, primarily to Norfolk, Virginia."
As a supply officer his duties among the troop transport included logistics and managing the large amount of men aboard the ship.
Yet, as the war continued it would not be just men that would end up coming onto the U.S.S. Mobile. Across one trip in the Atlantic Ocean, along with a ship filled with troops, a group of nurses would also be on board. One of them, Lt. Nurse Hanna M. Horgan, would later become William's wife in 1919.
Shea mentioned that Horgan confronted his grandfather when the nurses on board did not have enough food during the journey.
"So she went and found him and was able to get food for [the nurses]," said Shea. "And I'm estimating that probably during the course of the trip back they probably got together multiple times."
By 1920, Horgan would share William's Brooklyn home on 1697 Troy Ave., according to the 1920 U.S. Census.
Horgan shared William's Irish background and also served on the French-front during the war. Their time together on the ship helped shape a marriage that would last more than 30 years. They had three sons, who all would serve in the military.
"They were not well off by any stretch of means but [there was] definitely a sense of family, and this is something I'm proud of," Shea said, wishing he had met him. Shea died in 1955 at the age of 69.

Shea would continue on to serve his country after the Great War ended.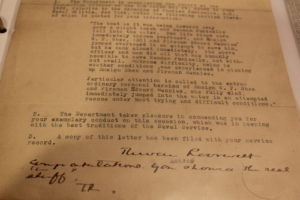 In 1922, Shea was awarded the New York Medal of Valor when he and a fireman jumped into the Hudson River to try and save a sailor when a training routine went wrong.
Theodore Roosevelt Jr. wrote a letter to Shea commending him, signing off the letter with "congratulations you showed the real stuff."
Edited by Southern Connecticut State University professors Cindy Simoneau and Jodie Mozdzer Gil.