By Matt Gad, SCSU Journalism student
Matt Gad, journalism student at Southern Connecticut State University, reported this story in 2017 as part of Journalism Capstone coursework on World War I.
World War I veterans are honored in multiple ways in Bethany.
Three have their names engraved on the Bethany Veterans Wall of Honor at Veterans Memorial Park, 265 Beacon Road. Ten names are engraved on a plaque at Town Hall.
All the town's veterans are honored at the Veterans Memorial Bridge.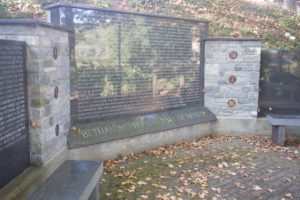 The black and bronze granite stone at the Wall of Honor lists names paid for by family members, solicited by the town's now-defunct Veterans of Foreign Wars Post.

The World War I names listed are Frank L. Fowler, William H. Bice and Malcolm H. Brinton. The Wall of Honor also includes veterans of other wars.
The dedication ceremony took place June 12, 2005.
The wall's construction, including the stone carving, was completed by volunteers. Thomas Martucci, another former Veterans of Foreign Wars Post member, led the project and was the one who designed the monument and immediate area, according to an Orange Bulletin story.
Located at the entrance to Town Hall, a plaque lists 10 World War I veterans' names: Jerome A. Downs, Jr, Howard A. Doolittle, Roy D. Doolittle, Bice, Elton E. Doolittle, Wallace W. Saxton, Chas F. Schaffer, Ralph W. Carrington, Henry Guebler and Chas LaPlante.
William Lester, an assistant town clerk in the Bethany Town Hall, who also works with the Historical Society, said official lists of those who served may vary due to how long an individual had resided in Bethany.
In addition to the lists of World War I veterans, other monuments honor those who served from all wars, including animals.
John Reilly, who was a member of the Veterans of Foreign Wars, helped construct a nearby footbridge with identical plaques at each end that read "Veterans Memorial Bridge, dedicated Sept. 16, 2001."
Additionally, six benches and a plaque referencing the role of dogs in the war, are situated adjacent to the Wall of Honor. The park is also highlighted by the beautiful Hockanum Lake and is a popular swimming and picnicking destination.
The Wall of Honor is maintained by former Veterans of Foreign Wars members.

Said Lester: "Sometimes the past members all go over and rake leaves or shovel snow off the monument but there's no official maintenance effort. The Wall of Honor belongs to the Bethany Veterans of Foreign War, not the town of Bethany."
The Wall of Honor is located next to a lodge at the top of Veterans Memorial Park. On the ground are bricks engraved to honor fallen heroes. A nearby bench also reflects a carved message from a former Amity Regional High School graduating class honoring those who have served from town.