By Michael Apotria, SCSU Journalism Student
Michael Apotria, journalism student at Southern Connecticut State University, reported this story in 2017 as part of Journalism Capstone coursework in World War I.
North Branford's two World War I monuments, both boulders with identifying plaques, sit about a mile apart.
One rests on the town's green, a small patch of land off Middletown Avenue, just in between the Ross Library and the church. The other monument is in front of the North Branford Congregational Church on Foxon Road, Route 80.
The 5-foot-8-inch granite boulder on the green was erected in 1920.  Albert Russell and Sons Co. were hired to design and sculpt a plaque for the front of the granite slab.
The company made the plaque almost 3 feet tall, with dedication to three different wars, the Revolutionary War, Civil War and World War I. The names of nine men who served in World War I are engraved on the lower portion of the plaque.
Later on another plaque was added the back of the granite monument for the soldiers who served in World War II.
The company chose a bronze plaque, mostly because it was a popular choice during the early 1900s and they expected it would withstand New England's natural elements, according to a letter on file written by North Branford's late municipal historian Janet S. Gregan.
The Foxon Road boulder monument, standing roughly 3-feet 6-inches tall was erected in 1935 and has the names of 17 men from North Branford. Like the monument on Middletown Avenue, this one too is made from a granite boulder with a bronze plaque.
The town alternates sites for its annual Memorial Day veterans remembrance.
This past year, was the last year the local VFW organized the ceremony,  according to North Branford's Financial Director Anthony Esposito.
"The VFW would plan the parade and guest speakers," said Esposito.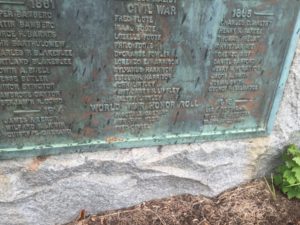 "The one they planned last year was almost sort of their 'last hoorah' because their chapter closed. I am going to be involved with a few others in the planning of future ones and I am sure a few of those guys would still love to help."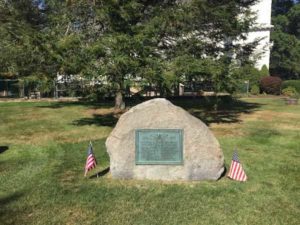 Unlike the monument located on Middletown Avenue, Esposito said there is really no paper trail for the Foxon Road boulder because it was believed to be funded through private donations.
"Years ago money was raised for the monument," said Esposito.
Hagaman Memorial Library librarian Fawn Gillespie confirmed the lack of documents related to the monument.
Even though the Middletown Avenue monument0 seems to have more documented information, both monuments are of equal importance and historical significance to the people of North Branford, said Esposito.
"The ceremony and monuments are important not only to the veterans, but everyone in the town," said Esposito. "It is our job as residents of North Branford to keep the memory of these veterans alive, even if they are not."