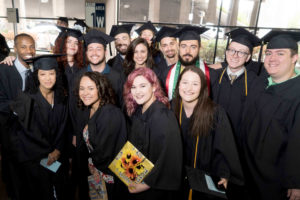 More than a dozen students graduated from the Journalism Department on May 18, and the department honored three top students during the university Honors Convocation April 29.
The graduates included six who had finished work toward their degrees in December 2017:
Cristina D'Almeida
Melissa Nunez
Alexander Palmieri
Adrianna Rochester
Jeniece Roman
Ali Sorbara
Those finishing their degrees in May included:
Michael Apotria
Melanie Espinal
Tyler Ferrara
Gregory Gagliardi
Chloe Gorman
Megan Grabowski
Matthew Johnson
Emily Plavcan
Mary Rudzis
Christopher Rzasa
Lynandro Simmons
The graduation ceremony was held at the Webster Bank Arena in Bridgeport, Conn.
The Journalism Department also recognizes top students each year at the university Honors Convocation, held April 29 at Southern Connecticut State University.
Chloe Gorman received the Robin Marshall Glassman Outstanding Journalism Graduate of the Year award, while Jeniece Roman and Lynandro Simmons were recognized as the Southern News Journalists of the Year.